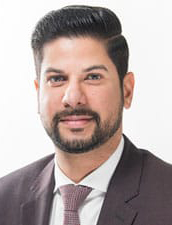 Contact Info
Location:
Mississauga, Ontario, Canada
Phone:
905-848-HURT (4878)
Fax:
905-418-0428
Prior to opening Chera Law Office, Ravdeep was an associate at a very prominent Personal Injury Firm in Toronto. Over the years, Ravdeep has gained extensive knowledge of the law and has used that knowledge to seek justice and compensation for those that have been seriously injured.
Ravdeep's dedication and passion to assist those who have suffered from personal injuries came to him at a very young age. During his youth, Ravdeep's sister was involved in a serious motor vehicle accident. After seeing a loved one suffer, Ravdeep decided that he wanted to represent people like his sister to get them the compensation they deserved.
Since then, Ravdeep has been a strong advocate for personal injury victims across the Greater Toronto Area. He has represented individuals in all areas of civil litigation including motor vehicle accidents, slip and falls, WSIB claims, brain and spinal injuries and occupier's liability matters. Ravdeep has also appeared before the Superior Court of Justice, Ontario Court of Justice, Small Claims Court, Bankruptcy Court and the Financial Services Commission of Ontario.
Ravdeep is a proud member of the Peel Law Association, Ontario Bar Association and the Law Society of Upper Canada.
Areas of Practice
Personal Injury
Real Estate Law
Wills and Powers of Attorney
Criminal Law
Family Law
Professional Associations and Memberships
Peel Law Association, Member
Ontario Bar Association, Member
Law Society of Upper Canada, Member
NIAGARA FALLS OFFICE
7979 Dorchester Rd.
Niagara Falls, ON L2G 7W7
Toll Free: 905-848-HURT (4878)
Map & Directions
By Appointment Only
MISSISSAUGA OFFICE
3024 Hurontario Street
Suite G10
Mississauga, ON L5B 4P4
Toll Free: 905-848-HURT (4878)
Mississauga Office
Free Parking
ST. THOMAS OFFICE
280 Edward Street
Suite 12A
St. Thomas, ON N5P 4C2
Toll Free: 905-848-HURT (4878)
Map & Directions
By Appointment Only